Providing licensed, Christian-based childcare.
The Neighborhood Center of the United Methodist Church is a Keystone Star 4 child care facility. The center was founded on Christian principles by United Methodist Women. It is with great joy that we continue to carry out this shared vision to continue to enrich the students and community in which we serve. The Center prides itself on providing a high-quality education in a safe and nurturing environment. Our children are taught at a young age be independent, creative, and responsible!
We participate in the Child and Adult Care Food Program (CACFP) during the program year. All children enrolled in our programs will receive a nutritious breakfast, lunch/dinner, and snack according to the arrival time. We follow the FDA guidelines with each meal which consists of a fruit, vegetable, and whole grain component along with milk at each serving.
---
Curious Cocoon's
Toddler Program
"I have the pleasure of shaping the minds of students as young as 12 months up to 2 years old. I am making sure the children are learning basic skills to help them in life. Some of the skills taught are sharing, cleaning up and putting away their toys after play, their days of the week, alphabet, and listening skills. One important skill is learning how to play with one another nicely! I am able to use my 33 year experience with all ages as well as my Associates in early Childcare education to keep it fun and exciting for my toddlers."
– Ms. Roy
---
Creative Caterpillars
Younger Preschool Program
"Hello my name is Tricia Kearns & I am so excited to join the awesome team here at the Neighborhood Center. My classroom has children aged 3 – 4 ½ years old. I have been in the early childhood field for 22 years & I am a mother to 3 wonderful children. I am currently obtaining my associates in Early Childhood Education & will then be pursuing my bachelors in Child Psychology/Child Development. I enjoy working with children of all ages, helping them reach their developmental milestones is a very rewarding experience. I look forward to partnering with you in helping your children reach their goals!
– Ms. Trish
---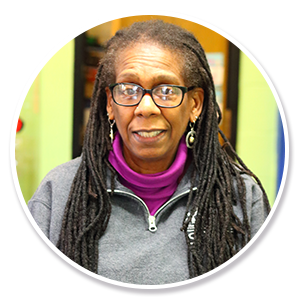 Brilliant Butterflies
Older Preschool Program
"My classroom has children aged 4 – 5 that will be equipped with all knowledge needed to enter Kindergarten. We are currently using the Creative Curriculum a research-based system that combines curriculum, assessment, professional development, and family connection resources to fully support our childcare program. With this curriculum, we are able to promote intentional teaching. I am motivated by the children's desire to learn and the many ways in which they express themselves artistically. The children participate in weekly cooking classes for 10 weeks during the program. They are guided through making delicious and nutritious snacks, meals, or desserts. I think it's great that our classroom has direct access to the outside play area as well as our own bathroom. I have 25 years of experience working with children from preschool through 6th grade. I will complete my CDA training in May."
– Mrs. Helen
---
Before & After School Program
The before/after school program is an extended program to the school day that carries out the Neighborhood Center's mission to better lives, better community, and better Harrisburg. This program follows the Harrisburg School District's Calendar and accommodates most early dismissals and school closings. Our professional staff offers a safe and positive environment where children are encouraged to reach for the STARS. The Neighborhood Center recognizes the importance of building up our children through curriculum and instruction, healthy peer relationships, and through their efforts and exposure to volunteerism and community outreach. Our hours of operation for this program are 6:30 am – 8:30 am for the before school program, and 3:00 pm – 6:00 pm for the after-school program.
---
Summer Adventure Camp Program
(June – August)
In efforts to prevent summer learning loss, we have placed a major focus on reading, math, science and STEM-related curricula during the summer months. A Bachelors/Masters level teacher will facilitate all educational pieces during the morning portion of the camp. Following the educational piece, Neighborhood Center staff will accompany children on weekly purposeful field trips, swimming, and will ensure that educational components are infused in daily activities. All children enrolled in Summer Camp will receive a well-rounded summer experience!
Summer Adventure camp runs for 10 weeks from June-August and is open to children in grades Kindergarten through 6th grade.
DOWNLOAD OUR CHILDCARE REGISTRATION FORM
---
Interested in Learning More About Childcare?
Submit your info in the form below.