Building lives for a better Harrisburg since 1910.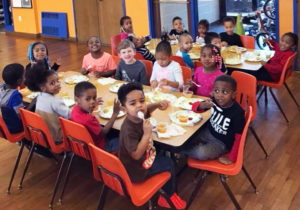 Neighborhood Center has served a multi-ethnic uptown neighborhood, as well as the total Harrisburg community, since 1910 with educational, cultural, social service, basic needs, leadership, and recreational programs for children and their families.
The Center specializes in helping young people discover and develop their capabilities, so that their lives and the life of the community can be enhanced.
Neighborhood Center is community-based. Many of the Center's staff have been neighborhood residents who attended Neighborhood Center programs as children, developed their talents, and grew into leadership positions. The Board of Directors is, by mandate of the corporation's by-laws, composed of neighborhood, community-at-large, and United Methodist representatives.
The Center serves over 130 people per day. About 70 percent of our participants' families earn less than $17,500 per year. The ethnic background of the Center's participants is approximately: 80 percent African-American, 10 percent White, 7 percent Hispanic and 3 percent Asian.
The Center celebrated their 100th Anniversary of service in 2010 that reaffirms our commitment to the future of our community through work that emphasizes personal and community empowerment. We will strengthen our relationships with neighbors so that we can work collectively for a caring, diverse city neighborhood.
It is the policy of Neighborhood Center of the United Methodist Church that there will be no discrimination in employment or enrollment with regard to race, color, religious creed, family status, ancestry, age, sex sexual orirntation, or disability. Reasonable accommodations shall be made to meet the physical or mental limitations of qualified applicants or employees. Our goal is to create a workplace free from discrimination with a staff that is representative of our community—men and women of varied religious, racial, cultural, and economic backgrounds.
Guiding Principles:
Foundation: We are committed to being a Center of Christian life, love, health, and inspiration.
Community: We are committed to the concept of living and learning in a Christian community.
Response and Service: We are committed to responding to expressed needs of individuals and community.
Human Potential: We are committed to maximizing both individual potential and community empowerment.
Our Mission:
The Neighborhood Center builds a vital community by serving and empowering children, youth, and families.
Our Vision:
Building lives for a better Harrisburg.
---
A proud history that spans over a century.
Neighborhood Center has served the total Harrisburg community since 1910. Formerly known as the Methodist Mission, Neighborhood Center has a proud history of meeting the needs of and empowering its neighbors.
The Center specializes in innovative approaches to community needs, among them the first kindergarten for African-American children in Harrisburg; the development of one of the first programs for physically and learning disabled children, which was used as a model when the Harrisburg School District began such a program; Young Mothers Together, one of the first agency responses to the high teen pregnancy rate in the city; and TICKET, a unique one-to-one tutoring program based on the teaching methods of Sylvia Ashton Warner.
Neighborhood Center's Lenore Haas Alexander Playground on the southeast corner of Third and Kelker Streets opened in June of 1990 for use by the children in our neighborhood as well as the children in our own programs. In the summer of 2006 a new equipment grant was received from the Ronald McDonald House Foundation.
Pictured here is the Neighbor Center Mural, created in 1979. Information on the mural on found on Maclay Street can be accessed by clicking here.
---
Powerful partnerships that translate into our services.
Neighborhood Center is a National Mission Institution in covenant relationship with the United Methodist Women National Office and an affiliated agency of the Susquehanna Conference of the United Methodist Church.
Neighborhood Center is a member agency of United Way of the Capital Region, Pennsylvania Association of Non-Profit Organizations, and the Safe Kids Coalition.
Child Care Consultants, Inc. of the South Central Region has designated Neighborhood Center's childcare as a STAR 2* site under the Pennsylvania Keystone STARS Quality Assurance standards.
Neighborhood Center is a registered 501(c)(3) organization, and tax-exempt as a religious organization under PA law.
Neighborhood Center's childcare programs are licensed by the Pennsylvania Department of Human Services.
*In order to meet the STAR 2 level, Day Care Centers must meet or exceed qualifications, including but limited to, at least one half of the lead teachers having an Associate's Degree in early childhood education programs. Teachers must also use a standardized Environmental Rating Scale (ERS) to evaluate and improve their classroom and learning activities, provide daily updates on a child's activities, and hold one teacher conference each year.